Motivational speaker, published author, media personality, Indiana Sagamore of the Wabash, Linda Clemons is a multi-faceted entrepreneur of diverse talents and knowledge. Linda has gained national recognition for her comprehensive and entertaining presentations on a multitude of self-improvement topics.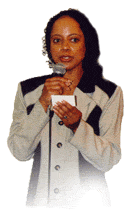 Based on in-depth research, Clemons has motivated audiences across the country to reach optimal potential in various aspects of life. With a heavy emphasis on good health, healthy living and positive thinking, Linda has demonstrated her commitment to improving the lives of others.

Linda is also active in the business arena. She is founder of several associations, including the National Association of African American Entrepreneurs, and Living Legends in Black, helping to promote empowerment of individuals professionally. Ms. Clemons is the President of Sisterpreneur, Inc.®

Because of her dedicated work, Linda Clemons has been recognized as a Sagamore Of The Wabash, the highest civilian award in Indiana. She has also been nationally recognized in Who's Who In Black America as well as receiving a Congressional Listing.
Ms. Clemons also hosts the radio talk show, Sistah Talk, heard on 1430 AM Sundays from 11AM to Noon..
Linda is available for speaking engagements for your company, church, organizations and women's groups. Call (317) 479-1178 or email for more info linda@bargaindiva.com.